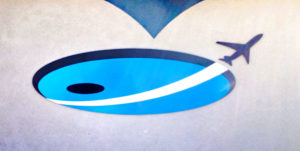 Short Video Introduction by Author
Klamath Falls lost its air service Monday.  This is the second time since 2014.  The Herald and News has prepared an editorial which questions the importance of continuing to invest time and money in the effort.  I have replied to their editorial because I believe prosperous rural communities must be accessible to the rest of the country and world.  The set of facts cited for Klamath Falls is not unique across America.
This sites basic precept is that resilient actions affirm durable truths.  My suggestion is that rural communities that act for specific long-term benefits, act resiliently.  We should have faith that their effort and investment will reflect the durable truth of their commonwealth and dedication over time.  To achieve this they must work on their local air service enterprise as the gardener does on their garden.   They must also endeavor to pull the levers of government and remove artificial barriers to regional air service success.
http://www.heraldandnews.com/members/forum/editorials/airline-options-are-few-focus-efforts-elsewhere/article_c82c5992-9a4d-5cdd-b089-ab0fd9356d22.html
Mr. Gerald O'Brien
Editor of the Herald and News
Gerry,
Your editorial on air service is provocative.  Initially, I thought you were advocating a retreat from re-establishing an important pillar of our economy in this very competitive world.  Considering it further, you advocate fully considering the scarce resources we allocate to re-establishing service.  To follow up on this you should do an in-depth review of what air service does for the businesses in our community and how the national air service environment constrains our efforts.
Having spent some time with airports, I would like to offer a few perspectives.
Lost Cause?
Some may suggest air service is a lost cause and can never be established.  Other opinion may be it really doesn't bring much to the community – especially the business community.
We should dismiss out of hand we are not up to it.  The airport staff (John and Linda) have a heavy lift, but they are highly competent.  In due course with community support and some city investment another carrier will be found and a level of service will be re-established for a time.
Longer Term Consideration
The longer-term factor is the considerable head wind from federal regulation and large airline concentration.  If after research you concur, you could develop a voice to advocate measures to reverse the situation and to seek legislation and regulation that supports rural air service.  Maybe other rural papers will join with their voices.
Recently the FAA reported the airline industry overall has been doing well in the United States.  The contrast is that mainline carrier business has increased 5% between 2007 and 2016 while regional carriers are down by about 2.6%.
https://www.faa.gov/data_research/aviation/aerospace_forecasts/media/FY2017-37_FAA_Aerospace_Forecast.pdf
In my opinion, it is primarily the system that fails, not the community, city or airport staff.  As the FAA documents, it has been good times for the airline industry.  They purchase lower cost fuel and seem to pack folks into smaller spaces with fewer amenities.  A couple of results from this drive for efficiency are more financially secure airlines and the concentration of airline service.
Need to Re-Establish Airport Network Serving Entire USA
The concept of an airline network that serves the entire nation seems passé to many, especially those benefitting from concentration.  A relic of our times is the essential air service program that does not apply to our community or others that have lost their air service since 2011.  We discussed the essential air service program and other options in an essay last year.
http://amendoon.net/eas-is-critical-for-rural-air-service/
Probably EAS does not offer much opportunity for Klamath Falls.  In my opinion, our situation comes from a bait-and-switch to Congress by the metro airline industry.  The taxpayer through EAS picked up what should be hub airline expense establishing and maintaining rural connector routes.  Robust connector routes should be part of their system as one nation, indivisible.
The rejoinder from the industry will be they have made air travel open to more.  They maintain they have developed fare structures facilitating more folks to fly.  This is true as the FAA report documents, but it has done with winners and losers.  Rural communities such as Klamath Falls are prominently on the list of losers.  My concern is that I have heard through my normal news outlets very little policy wise nationally how to improve rural air service opportunities.  It is not a minor issue, but I believe strategically profound and will likely define the future prosperity of many communities outside the metro veil.
How Important Air Service to Local Businesses?
The key question is, how important is air service is to local businesses?  My experience indicates that it is very important, especially for businesses that are not strictly "local".  Talking in times past with the 173rd Fighter Wing and OIT and medical folks, and many others, dependable air service is critical to bring customers and suppliers in and sending professionals out for meetings, training and consultation.
As an example, I suggest you talk to Eric Nystrom who owns and operates Keno Tractors, a world-wide distributor of tractors.  At a recent Sunrise Rotary Club program, he reported the proposal for a west coast tractor distribution center for Klamath Falls was lost during the last air service hiatus.
The issue is difficult and complicated, but for the continuing vitality of Klamath Falls I recommend we stay the course on re-establishment and also work towards a more hospitable regulatory and industry environment.  The Herald digging deeper will help the cause.
Respectfully,
John Longley