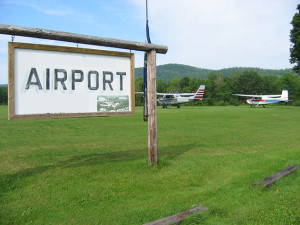 OREGON MUNICIPAL AIRPORTS
Vital Community & Economic Development Resources
John Longley, ICMA-CM
January 5, 2015
 What Oregon City activity, often remote from City Hall employees a great many private and public jobs and generates local economic activity in the 10 figures?  The answer is Oregon's municipal airports.
Of the 97 airports in Oregon, 30 are owned and operated by municipal governments.  They are distributed throughout the state with nearly 6,000 local public and private employees.  Municipal airports contribute about $1.2 billion to local Oregon economies.  In 2012, Oregon municipal airports enabled 375,000 passengers to embark on travels with destinations around the globe.
These are big numbers and while the numbers tell a story, the range of activities the airport's support is equally interesting.  These airports host flight schools, and serve as important military bases for fixed wing, rotary and drone operations.  A southern Oregon municipal airport is the "school house" for all the F-15C pilot training in the United States.
Municipal airports also support critical public safety and disaster relief missions.  Many serve as bases to protect Oregon's forests through Forest Service air attack.   Airports are typically key facilities for operations to address local and regional disasters.  Central Oregon municipal airports have been designated as the primary, secondary and tertiary gateways for disaster relief should a Cascadia earthquake event occurs in the not too distant future. Beyond this priority activity, businesses located at Oregon municipal airports provide emergency medical transport services and receive and distribute priority freight using smaller aircraft throughout the state.
In 2012, four municipal airports provided passenger service.  Many more Oregon airports hosted passenger service two decades earlier, but as pilot and scheduling requirements have become more demanding, fuel cost has increased, and load factors have become larger and larger, the number of air service airports in Oregon has declined significantly.
The elimination in 2012 by the Federal government of new Essential Air Service airports destroyed the system's safety net.  Entire areas of Oregon do not have air service and this makes the cities in these areas increasingly remote without many of the conveniences and opportunities of a growing, dynamic economy.  As a rule, municipal airports do not derive their critical public support for recreational, general aviation purposes.   Often, the most compelling rationale to city governing boards is to support and enhance the community's economic activity.  This may be aircraft production, establishing a Forest Service air attack base, establishing a pilot training program or supporting a local military mission.
While city councils require proof that any support will create real economic return, there are a number of strategies to accomplish this. Especially for more remote areas, airports provide access.  Not only are they a business destination for community investment but they can increase access for medical support and transport and enhanced tourism opportunities.    Airports permit investors from far away to visit their agricultural or industrial properties using smaller aircraft.
Airports mean open land which city councils may view as an opportunity to enhance a community's economic development.  This should be well thought through as a major rationale for airport development.  Many cities have airport property which they would like to use to enhance the local economy.  The use of land conveyed by the Federal Government or purchased with an FAA grant may only be used for non-aviation purposes under the most limited of circumstances.  While this is a caution, there are many examples of how airport property has been used by Oregon municipal airports for important airport related economic development.   To accomplish this, however, "the devil is in the details."
Normally this success is achieved by communities that have developed attainable and clear goals and are willing and capable of making prudent investments.  Constraints must be directly and realistically anticipated in planning.  Sound plans must address factors such as the presence of endangered or threatened species such as the Streaked Horned Lark or Applegate's Milk Vetch and regulatory requirements presented by the FAA including the requirement that property may only be leased consistent with the Airport's approved plan
As the number of air service airports decrease, access to air service has been reduced.  Potentially this could be reversed using smaller 9 passenger aircraft.  Airports that support these aircraft do not have to meet rigorous and expensive FAA Part 121 air service requirements.  They increase access to communities, but cities have to evaluate the cost and benefit for the service.  Airline operators may ask for significant subsidies, because ticket prices often do not cover costs to operate these airlines.  This is an area, however, where Oregon cities can partner to develop a program that will enhance aviation access throughout the state.
The Oregon Department of Aviation has done an excellent job documenting the economic benefit of airports and is also very interested in expanding air service.  This could be of great benefit to Oregon's eastern interior but also to central Oregon cities and coastal areas distant from current air service options.  An engagement between the cities and the Oregon Department of Aviation could materially improve transportation throughout Oregon.
Airports are expensive to establish.  Throughout the United States many airports developed from smaller commercial and agricultural operations.  A great source of new airports was the conveyance of military fields after World War II, and to a smaller extent, during the base closure processes in the 1990s.
If the need can be established, the FAA can assist with airport development, but the road is long and difficult.  A better strategy for Oregon cities that want airport access without expending the considerable cost to establish new airports is to seek partnerships with ports, districts, counties or the State of Oregon.  The State of Oregon operates 28 airports statewide while counties operate 10.  While each case is unique, opportunities do exist for partnerships in development.
Oregon's municipal airports are important community and economic agents.  They support a large amount of employment, significant economic activity, and critical services.  Successful airport development must be grounded in a sound plan anticipating successful community futures.  If a city owns an airport, its development will require investment and a clear action plan that addresses constraints and obstacles.
Municipal airports offer significant opportunity when regional and statewide partnerships are established.  An important area to initially pursue is the expansion of air service to smaller Oregon communities and less populated regions.  This is now being discussed by private and public entities throughout Oregon and it could offer the major benefit of improving access to many Oregon cities.  Oregon cities have the responsibility of developing a voice for air service that establishes the need and the potential for positive public and private economic return.