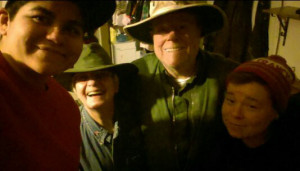 The annual family selfie
It is a holiday.  We do not want focus on that serious stuff for a day?  Today I started with a little internet work, trying to develop a solution set for defining where the NJ-Virginia-Tenn Longley line goes before 1703.  My Y-chromosome test says I have a common ancestor 8 – 12 generations back to the progeny of Pilgrims.  It is not entirely clear, but something to investigate a bit more.  It is an obsessive endeavor of mine recently.
We feasted with Sierra and Marissa.  They are great kids working for a future in Klamath Falls.  The day has been crisp.  It is 7:30PM now and the thermometer is around 27 degrees and is projected to go to 18 degrees.  We have a nice fire, so the house stays pretty warm.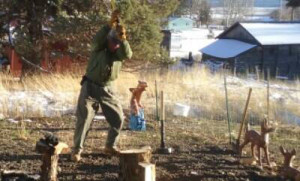 Before Thanksgiving dinner, we did some wood chopping.  Sierra bought some rounds that are pretty large, so we scored them with a chainsaw, and then used an awl to break them apart.  We had good production.  It builds the upper body and helps to get the swing down so the mark can be hit consistently.  We started a competition to see if we could do it in one or two wacks.  Three wacks and you are out, someone else gets a shot.  It is fun to strut around demonstrating upper body strength.  Sierra did a good job and cut some pretty large wood with one or two wacks.  For an old guy, I believe I held my own.  I want to challenge any of you next year to three wacks and you are out.
Dinner was great.  We had a ham deliciously cooked by Theresa, Marissa did chili beans that were excellent.  Theresa cooked up some green beans.  All in all, it was just an excellent repast.
The purpose of this post is not to search for an enduring truth, but instead to point out that fellowship with family and friends, a little exercise, and a great meal is pretty much the best our world has to offer.  We can only do it on occasion, but when it comes together, it is the BEST.